Bovada Poker Review
Bovada.lv Online Poker Site

Bovada Poker Bonuses

$1000

Poker Bonus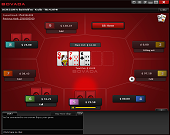 » Visit Bovada.lv Poker «
Bovada is one of the leading online gaming sites that accepts US players, but for some reason their poker room always seems to be overlooked compared to its casino and Sportsbook. They now offer a cutting edge "Instant Play" client, that doesn't require download and offers real money gambling. Mac & Ubuntu users should take advantage of it.
Join Bovada Poker here and receive a 100% to $1000 poker bonus for new depositing players.
Bovada is a high volume room but it still does not have the player volume that Pokerstars and other big poker sites have. There are enough players online at all times for you to play at any stakes you want or play any type of tournament that you could wish for, which is all that matters. At peak hours [Usually around 7-10 PM Eastern Standard Time] there will be upwards of 10,000 players online at once. Even in down hours you will find thousands online looking to play a variety of games at a variety of stakes. Lack of player volume is the last thing you will have to worry about if you end up choosing Bovada.
Competition:
One of the best things about Bovada is the ho-hum competition that you will face. Of course, high stakes tables and tournaments are going to be ruthless, full of people who play professionally for a living, but low to mid stakes tables are very manageable. Bovada is still best known for its casino and sportsbook, so you will notice that many poker players are casino or sportsbook guys first. A site like Pokerstars, which offers purely poker will have players that are looking to play poker only which means that competition is going to be fierce. Would you rather play poker against someone who is more interested in baseball lines or someone who plays poker online fifty hours a week? You will find a ton of the first type of players online at Bovada. There are plenty of opportunities to be profitable if you choose to play online at Bovada.
Software
:
Bovada "competes" well in every category I have listed, when it comes to software, Bovada has no competition whatsoever. Bovada's software is sleek, trendy, yet practical. You should have no problems joining the lobby, entering into tournaments, or joining a table. If you do not play they do not make money, so Bovada makes it as easy as possible for you to start playing poker online. Are you on a Mac desktop or laptop? You should face absolutely no problems with Bovada's software; your performance will not lag in the least bit. If you like to play more than one table at once, you are in luck, Bovada caters to multi-tablers by offering picture in picture view. However you are only able to play four tables at a time, which is a turnoff to some hardcore players. Their software is also versatile because it offers a Sportsbook infrastructure as well as a casino game client.
Support:
Bovada offers just E-mail support. I would love to see them implement phone or chat support, but with the way they run their E-mail support team that is really not necessary. You will get an honest, helpful response within an hour of sending the support team an E-mail. Bovada's support team will not win any customer service medals or awards, but they do get the job done. They have people working around the clock, 24/7/365. If you have a problem it will be taken care of!
Track record/ Reputation:
Bovada has been in business since 1994. Did you have a computer back then? I did not either; I did not even know that the internet existed back then. 16 years is not a very long track record with most brick and mortar businesses, but in the online gaming industry that is an eternity. Bovada is based out of Antigua and proudly offers its services to players in the United States. The only complaints you will find from Bovada players are from the "newbies" who think that Bovada poker or blackjack is somehow rigged because they cannot seem to win.
Deposit/Withdraws/Payouts
[8/10]:
All of a poker sites features mean nothing if you cannot successfully deposit your money and withdraw your winnings, Bovada makes sure that you can do both with ease. You can pay with a credit card or you can use Moneybookers, Ewallet, Netellers and many other options. You can receive payments with all of the above options as well as an old fashioned check. If you withdraw your money more than twice in a calendar month you could be looking at a $40 fine, which is something that I tolerate but do not agree with. Simply put, if you want to deposit or withdraw money from Bovada you can, Bovada will not stop you from giving them business and they know that players appreciate a site that pays its players quickly and without hassle. Bovada has been in business from 1994 and they have paid every player that has wished to withdraw money. You do not become the leader in the online gaming industry by short changing your players, you have nothing to worry about here.
Bonuses/Freerolls
[4/10]:
Bovada offers just a 10% initial deposit bonus and their player loyalty system cannot stack up to many other major poker sites. If you feel as if you need big bonuses to be able to compete and break even playing real money poker online, you might want to check out a different online poker room. If the "nuts and bolts"/ "meat and potatoes" is what really matters to you in a poker room, Bovada is still an excellent choice. You might be sacrificing a few hundred dollars on your initial deposit by choosing Bovada, but you will get that money back and more in terms of entertainment and satisfaction if you play regularly at Bovada. A deposit bonus is just that, a bonus, it matters but it should not be one of the main things you consider when choosing a poker room. Bovada offers daily freerolls with $1500+ in guaranteed prize money. As usual, freerolls are mainly populated with newer players who play very loose, I would not count on winning any major freerolls at Bovada or any other online poker site.
Tournaments
[8/10]:
One of my favorite things about playing poker online at Bovada is the tournaments that they offer. Many popular rooms seem to ignore tournaments but I find them crucial when I am playing online. There always seems to be more of a purpose, an end goal when playing in a good poker tournament, especially compared to mindlessly playing at a table. There are sit and go and scheduled tournaments available. Buy ins range from 1 dollar up to thousands of dollars. Tournaments can range in sizes between a few dozen people up to a few thousand people. Bovada has the player base to support tournaments of all shapes and sizes. If poker tournaments are a big deal to you, Bovada should be near the top of your list as far as real money online poker sites go.
Last Considerations
Play at Bovada if
:
You think you may venture into sports betting or casino play.
You put an emphasis on customer support, easy payment methods and a company with a track record of treating its players right.
Avoid Bovada
Deposit bonuses, freerolls, and player loyalty programs are important to you. You want to be able to contact a support team in a way other than E-mail. You want to play at a room that puts its primary focus on poker and poker only.
Bovada.lv Real Money Reviews