Bovada Roulette Review
Bovada.lv Online Roulette Games

Bovada Casino Bonuses

$200

Roulette Bonus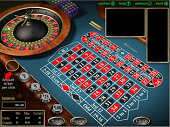 Bovada features a world renowned casino, and their roulette games are amongst the best in 2010. Mac and Ubuntu users should know that Bovada recently introduced an Instant Play client, removing the need to download. They can still gamble for real money.
Join Bovada Casino here and receive a 100% to $200 roulette bonus for new depositing players.
Play Roulette At The Bovada Poker Room
Ubuntu players should utilize the Instant Play version. The Java version still offers real money gambling.
Bovada's software is as good as it gets as far as online gaming is concerned, but they truly out did themselves with their online roulette games . Choosing how much to wager and making a wager could not be easier. The table could not be more realistic, neither could the wheel. My only complaint is that it seems to take the wheel a solid 6-8 seconds to spin before the ball lands on a slot, but that is partly because I have ADD! You do not have to download anything if you wish to play roulette online for real money, just create an account, make a deposit and start playing. The entire process could not be any easier or simpler.
Bovada graciously allows people to play their casino games at no cost or no obligation. You do not have to create an account or download anything, just visit [http://casino.Bovada.com/free-roulette.jsp] and start playing. The game is exactly like "the real thing" which is a great asset, especially if you plan on playing roulette online at Bovada for real money. You can get used to the intricacies of the game, how to make a wager, how to check your bankroll… You will not have to leave anything to your imagination. Bovada also offers some other casino games, in fact, Bovada is a versatile casino.
What separates Bovada's casino apart from all of the other online options is the odds they offer their players. Roulette, thankfully, is no exception. You can play European roulette or American roulette at Bovada, the obvious choice is European roulette. The house edge in single zero roulette [European roulette] is a measly 2.6%, which is player friendly, the house edge in American roulette, which has a wheel that feature two zeros, is a whopping 5.2%. Your expected losses with each spin drops by 50% which is crucial if you are trying to actually come out ahead by playing roulette. You are not going to be able to make a living playing real money roulette online at Bovada, no matter what systems or strategies you hope to employ, but they do offer you better odds than most by allowing you to play European roulette.
Roulette strategy at Bovada is the same as you will experience anywhere else, avoid 5 number bets and play for fun. Five number bets feature a healthy 6 to 1 payout, but you have just a 13.16% chance of winning the bet. This equates to a 3.9% house edge, which is significantly higher than the 2.6% house edge you will experience making any other possible European roulette bet online at Bovada.
As long as you choose to play European roulette and you only wager with money that you can afford to lose, you will have a blast playing roulette online at Bovada and a decent chance of coming out ahead financially. There is no better place to play roulette online, whether you are looking to play online for free or for real money. Bovada also offers numerous other betting games, such as the Bovada Europe Sports 2010.
Bovada.lv Real Money Reviews